Run by local Hong Kong Mum and Son team, Baking Maniac is the place to go for everything from designer cakes to FUN baking classes! Read on to learn more about how Ankrish founded the company at just TWELVE YEARS OLD!!!
Tell us a little bit about yourself.  
My name is Ankrish. I am the founder of Baking Maniac – a designer cake boutique in HK that I started when I was 12 years old. I love desserts, travel and photography. Ooh and I'm a complete workaholic! 
How long have you been in Hong Kong and what do you do? 
I was born and brought up in this beautiful city, therefore have been here for 23 years. Hong Kong is my home 🙂 
How did you discover your talent/when did you discover your passion? 
My mum used to teach baking classes for kids at the YWCA. I used to go with her as her assistant and would love helping her out in the kitchen. I would also come home after school every Friday and experiment in the kitchen to see what I could create. It came to a point where my family just could not eat the amount of cake I was making, and so I emailed more than twenty five-star hotels in Hong Kong asking if I could do voluntary internship with their pastry chefs. I was so eager to learn and experience the life of working in a hotel, especially in the pastry kitchen.
Due to being underage for work, the lack of response led me to an unexpected journey. I decided to start baking and experimenting myself at home and eventually started uploading all my work on a blog, just for it to serve as my own record of progress. One day, unexpectedly I received an email for an order. This led to other orders and from there the word spread, and very soon I was baking for birthday parties, weddings, big corporates, and now teach my own classes in my studio!
What do you love most about what you do?
What I love most about what I do, is that I get to see how my creations come to life from just some raw ingredients. The clients I work with have some very creative ideas which are challenging but that is something that also excites me when I finish a project I never thought was possible! One more thing that is exciting is that I get to have a working relationship with my mum. Not many people my age are close to their parents or families, therefore I consider myself extremely fortunate to have such a supportive family, and that I can have a mother-son relationship and a working relationship with my mum. 
What/who inspires you to do what you do? 
The reactions I get from my clients when they see their cakes, are what inspires me. One of my favourite things to do in the morning, is to open my inbox to positive messages from clients! I have been so lucky to have had the opportunity to bake some pretty incredible designs that clients have asked for. 
What's been your favourite piece/project that you've worked on?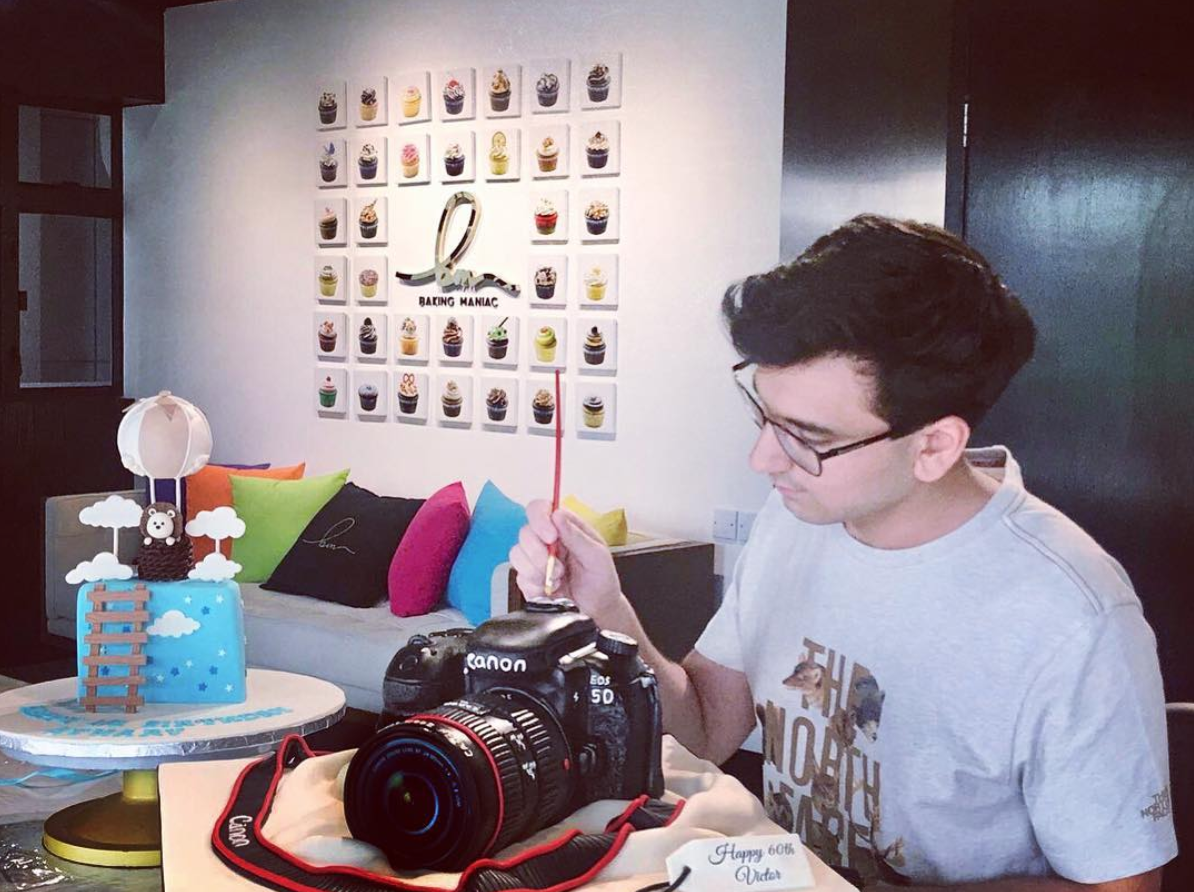 My favourite project I have worked on would have to be designing my studio in Wong Chuk Hang. I had been dreaming about my own space for many years. Every week after school, we would meet real estate agents to see potential spaces. Finally when the time was right (I had just graduated from uni) the perfect space came up which was double the size and budget, but I decided to take the risk. We didn't hire any interior designers, so I got to design my space exactly how I envisioned it to be. There were many nights where I was up all night communicating with suppliers for tiles, furniture, etc. But in the end I was so happy with the way my space turned out! 
What's been the most challenging piece/project so far? 
Ah so many! We love challenges, and we have the great opportunities to work on challenging projects. When I was in high school, we made our largest 8 tier cake for Discovery Channel, which took many hours and sleepless nights. Every few months we get extremely difficult challenges which excite us and makes us stay awake all night. We work non-stop but then the final outcome makes all the hard work worth it. 
Can you take us on a brief journey of how you bring a project together? 
Absolutely, we are constantly working on multiple projects at the same time, so time management is very important. We start work at 9am and can work till midnight or many times even 3am. We discuss details with the client and then decide on a design together. From there it's a few days process to bake the cake, prepare decorations, assemble the cake, package and deliver/pickup. 
For amazing cupcakes, cake or cookies or a baking class for yourself or the kids check out Baking Maniac's website here